Fraternal representatives of CCA partners from across the world extend greetings at the 15th General Assembly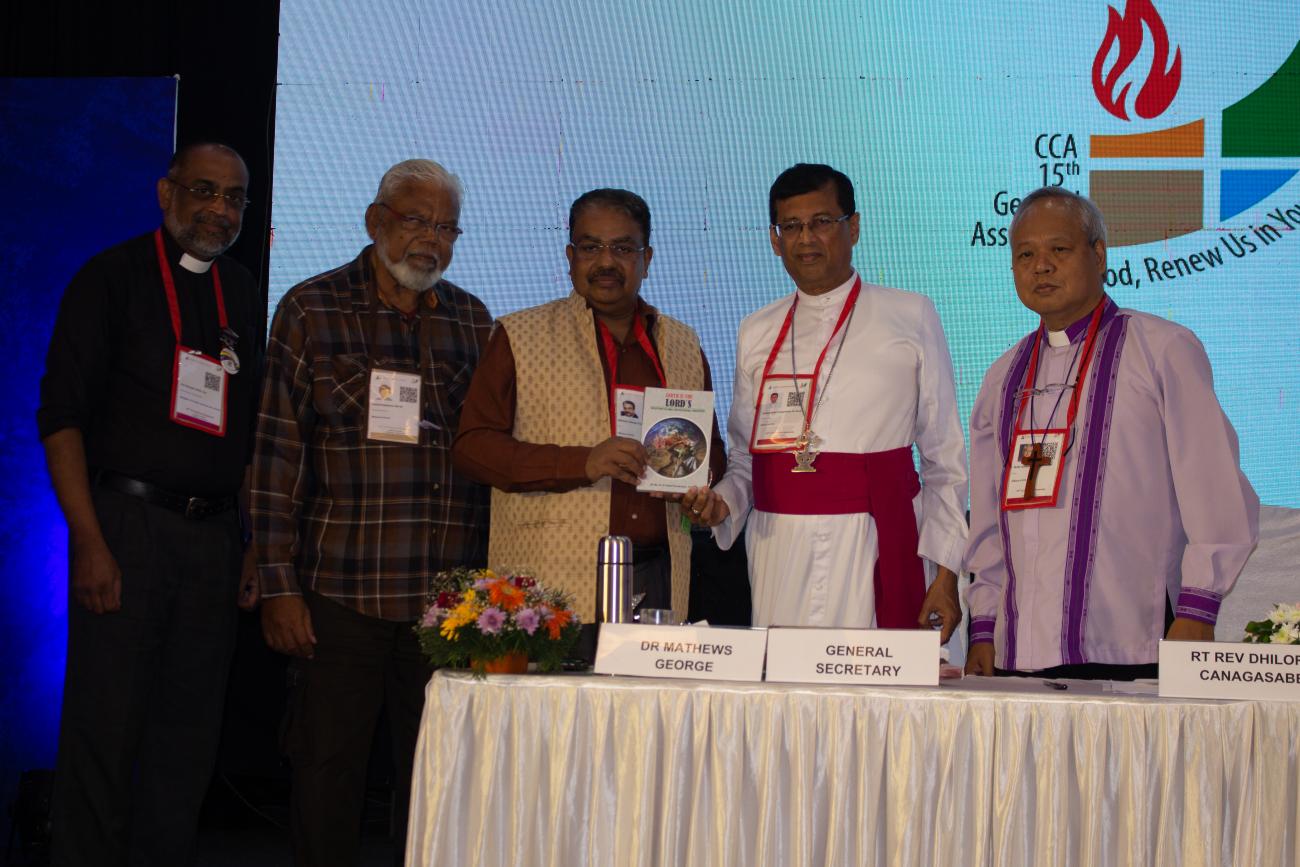 Kottayam, India:  Fraternal representatives from the Church and ecumenical partners from across the world attended the 15th General Assembly of the Christian Conference of Asia (CCA), and extended greetings at different plenary sessions of the Assembly.
Those who attended the Assembly and Pre-Assembly events included representatives from the church and ecumenical organisations from countries such as Canada, Germany, Sweden, Finland, Denmark, the United States of America, Switzerland, Netherlands, the United Kingdom, and Russia, as well as sister organizations such as the FABC, WCC, ICFLC, WACC, and WSCF.  
"Bishop Francis Serrao SJ, who represented the Federation of Asian Bishops' Conference (FABC) extended greetings and, said, "The CCA and FABC have had a long and fruitful relationship. As we are gathered here in this Assembly, a significant event in the life of the Roman Catholic Church is being celebrated in Rome. Pope Francis has termed it an 'exercise of mutual listening'. His key words are communion, participation, mission, encounter, listening, and discernment.
Isn't it a beautiful thing that these precisely have been the hallmarks of the journey of the CCA and FABC? Therefore, would it not be fitting to call this CCA Assembly too a synodal journey?
And isn't there ample reason for us to rejoice and thank the Lord for the splendid fruits of this fraternal collaboration which we are enjoying even today?"
Felicitous greetings were also extended by  Metropolitan Sevryuk Anton, Russian Orthodox Church Moscow Patriarchate; Dn. Kerry Ruth Scarlett and  Sheila Avril Norris, Methodist Church in Britain;  Rev. Frida Falk, Church of Sweden; Dr Sarosh Koshy, Global Ministries (Disciples of Christ and United Church of Christ in the USA;  Patricia Kathryn Talbot, United Church of Canada;;  Rev. Jieun Kim Han, Presbyterian Church USA – World Mission;  Dr Andrea Maria Mann, Anglican Church of Canada;  William Jansson Winge, Church of Sweden;  Rev. Dr Risto Jukko, Evangelical Lutheran Church of Finland; and Andreas Hans Dybkjaer-Andersson, Aeropagus, Denmark;  Dr Liza Bano Lamis, International Committee for the Fellowship of the Least Coin (ICFLC); Dr Vincent Rajkumar, World Association for Christian Communication (WACC); Darlene Marquez Caramanzana,  United Methodist Church – General Board of Global Ministries; Rev. Dr Atenjemba Wati Longchar, Foundation for Theological Education in South East Asia (FTESEA); and Dr Manoj Kurian, World Council of Churches, and Yowanda Yonggara, World Student Christian Federation.
For more photos (photo gallery) please click here: Greetings from Representatives from the Church and Ecumenical Partners