CCA General Assembly registration opens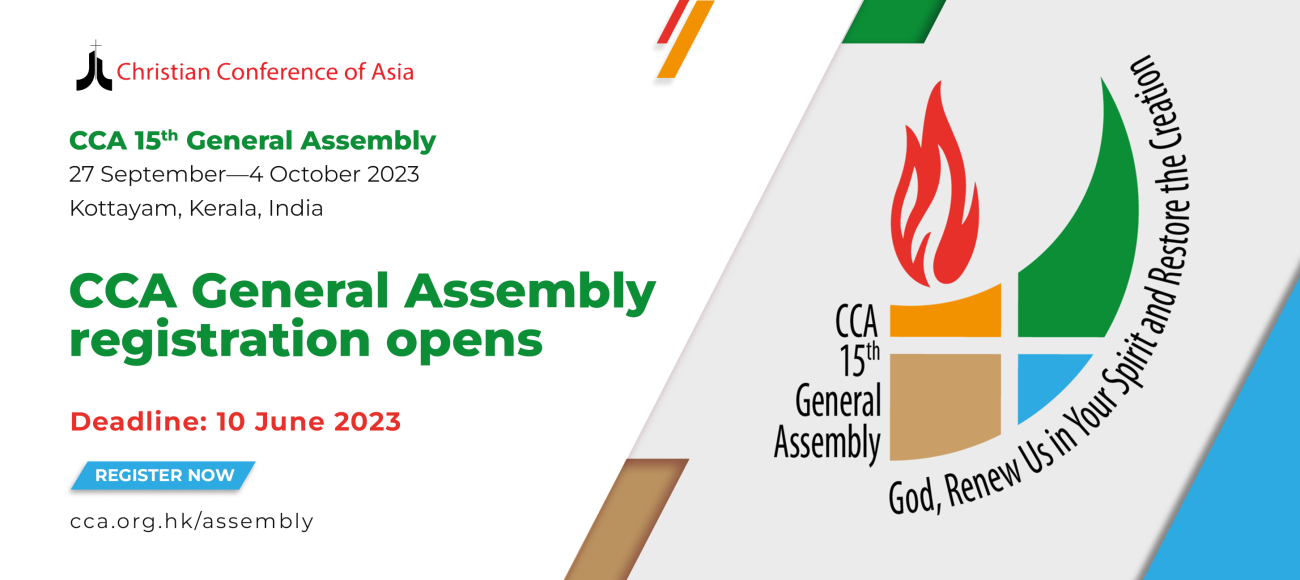 Chiang Mai, Thailand: Registrations for all categories of participants who are intending to attend the 15th General Assembly of the Christian Conference of Asia (CCA) have opened.
The General Assembly of CCA will be held in Kottayam in the southern Indian state of Kerala, from 27 September to 4 October 2023 under the theme 'God, Renew Us in Your Spirit and Restore the Creation'.
The venue of the Assembly, Kottayam, is an ancient historic centre of Indian Christianity, with churches belonging to various confessional families that trace their origin to the first century. Christianity is the third-largest religion in Kerala and Christians make up a significant 20 percent of the state's population.
The various categories of participants include official voting delegates representing member churches and councils of CCA, special invitees, interfaith guests, representatives of ecumenical partners from Asia and beyond, delegated observers by member churches and ecumenical organisations, pre-Assembly event participants, registered visitors, stewards, accredited media, and others participating as facilitators of workshops and exhibitions.
The registration for attending the 15th CCA General Assembly is processed entirely online, and details must be submitted on the site:  https://www.cca.org.hk/user/register
The deadline for Assembly Registration is 10 June 2023.
The information to be provided at the time of registration is related to one's personal and contact details and passport particulars, which are essential for submission to the Ministry of External Affairs in India in order to obtain official Conference visas. The 15th General Assembly of CCA is officially registered with the Ministry of External Affairs and Ministry of Home Affairs in India, and all participants are expected to obtain Conference visas approved by the Government of India and issued by the respective overseas Indian Missions. Thus, all those who are intending to attend the CCA General Assembly in Kottayam will have to register online with the required personal details.
Participants are advised to ensure their passports will have a validity of six months beyond 4 October 2023 or their expected departure from India after the Assembly.
With the participation of almost 500 attendees expected, the CCA 15th General Assembly will be another historic milestone in the Asian ecumenical journey; an occasion to celebrate the unity of the churches and to express the common vision for the future direction of the CCA.
Pre-Assembly events which will be organised in conjunction with the 15th General Assembly include the youth and women Assemblies, the annual Asian Ecumenical Institute (AEI), and an Asian Ecumenical Migrants Advocacy Network (AEMAN) forum.
The General Assembly, the highest governing body of the CCA, usually meets every five years; the 15th General Assembly will be held after an eight-year interval due to the COVID-19 pandemic.
For information about the Assembly, visit:  https://www.cca.org.hk/assembly
For queries, please write to: [email protected]