Prominent Dalit theologian Raj Bharat Patta says, Life in its fullness is not a possession or a mere monopoly of a few, but it should be enjoyed by all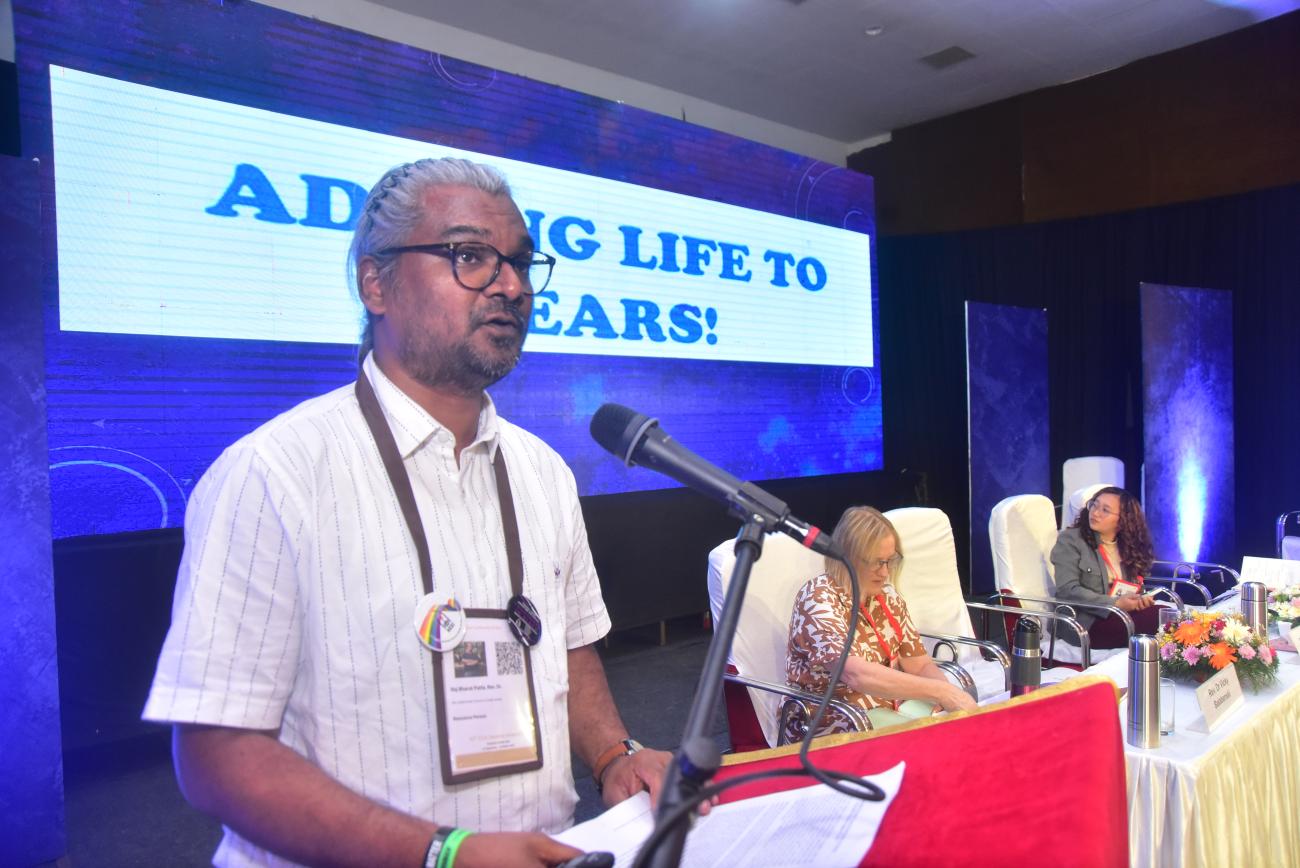 Kottayam, Kerala: While presenting the theme 'Renewal and Restoration of Creation: Attaining Life in its Fullness' at the fourth thematic plenary session in the 15th General Assembly of the Christian Conference of Asia, a prominent Asian Dalit theologian from the Andhra Evangelical Lutheran Church Rev. Dr Raj Bharat Patta stated "Life is not a possession or a mere monopoly of a few, instead it is something that should be enjoyed by all on earth. Life in the human worldview is concerned only about humans and not about the other forms of life. However, we need to be mindful that returning to the soil enriches the fullness of life because the soil is pivotal for the growth of life; from dust we came and unto dust, we return. Plants, animals, and humans share the commonality of depending on their life on the soil."
An ordained minister of the Andhra Evangelical Lutheran Church (AELC) in India, and a former Executive Secretary for the Commission on Dalits and Adivasis at the National Council of Churches in India, Dr Patta spoke from his grassroots experiences and added the context of lifelessness through elaborating on the three characteristics of de-ecologisation under the predominantly human-centric Anthropocene, namely, un-creatureliness, un-creation, and un-creativity. Un-creatureliness was humanity's "othering" of the rest of creation, un-creation alienated and uprooted life from creation in favour of hatred, exploitation, and violence, and un-creativity was the direction to "un-till and un-keep the garden of God" towards the limitlessness of human greed. De-ecologisation takes place when we humans forget that there is a striking interdependence between all forms of life, which, if disrupted, will cause ecology to take a back seat. This happens usually because humans crown themselves as the most dominant or powerful of the rest of God's creation and hence all the other disruptions occur.
Turning to "soil theology", Dr Patta demonstrated the soil as an example of humility and complementarity, super-abundance and flourishing, and hospitality and inclusion. He ended with a brief verse, "Our life-giving earth's womb is soon turning to be a tomb; Plumb and do not succumb to it. Save our earth; Our earth bleeds because of our greed, she'll be pleased if we can take care of her seeds/needs."
Dr Patta also stated that we tend to complain and put the blame on a certain group of people thinking they are the only ones creating the disruption but in the actual sense, each human being is responsible for what is happening to our biodiversity.
He went on to remind the audience that we humans always need to revive our minds. We humans forget that we are a part of the creation of God and not different from other creatures. When we humans forget this, we begin to exploit and destroy every life form for our very existence, which will eventually take us to our dead-end.
Profoundly elucidating the need for returning to the call of the plants and to the birds so as to see the fullness of life and stressing the importance of birds, Rev. Dr Patta explained how the Holy Spirit chose to come down in the form of a dove indicating the importance of birds in human life; similar is the case of plants because these beings help provide balance in temperature and are agencies who provide us with a number of things.
He concluded his presentation by showcasing for the audience a Tamil song 'Enjoy Enjaami' which provided a beautiful illustration of the people of the soil and how important soil is for the sustenance of humans. "The earth bleeds because of our greed", quoted Rev. Dr Patta. Hence, we need to take care that everything falls back into place for the peaceful co-existence of all God's creation.
The thematic presentation at the same plenary session was on 'Renewal and Restoration of Creation: Attaining Life in Its Fullness'; Prof. Dr Vicky Balabanski, the Director of Biblical Studies at the Adelaide College of Divinity in Australia shared that creation was the material and spiritual imprint of the Creator. The embodied, tangible world is where we experience God's ultimate self-revelation, where we experience this life. In John 10:10, Jesus the Good Shepherd says, "I came that they may have life, and have it abundantly." However abundant consumption and abundant accumulation is being mistaken for the desire for abundant life.
An ordained minister from the Uniting Church in Australia who has long-term connections with a remote Australian aboriginal community and works with indigenous writers who are developing their own hermeneutical approaches to reading the Bible, Dr Balabanski further added in her presentation that it was necessary to desire the abundant life of God.
"As Christian leaders, our own desire and the desire of our communities must be shaped towards the abundant, shared life of God, rather than towards the market-driven illusion of "the good life" of abundant possessions. We can help shape desire towards ecological virtues and practices, by our teaching, by our worship leading, and by our example," she declared.
For more photos (photo gallery) please click here: Thematic Presentations 4 "Renewal and Restoration of Creation: Attaining Life in Its Fullness", 2 October 2023